Seventeen students become members of NHS
  Seventeen students joined the National Honor Society (NHS) in a ceremony on Sept. 30.
   More than just an honor roll, NHS serves to honor those students who have demonstrated excellence in the areas of scholarship, leadership, service, and character.
  This ceremony, held at an assembly in front of the entire school, was to induct new members and to serve as a reminder to the student body about the honor of being part of the organization.It is a premier organization established to recognize outstanding high school students.
    New member, junior Madison Grobe, joined because it would help her build up her leadership skills and because it looks good to colleges. She thinks members of the community, staff, and student body, are all affected by NHS. She thinks this will matter in the future because it helps better skills and will help with jobs. She recommends people to join if they can.
  The ceremony was conducted by chapter officers president Rickie Branson, vice president Claudia Schmitz, secretary Bridget Clarke, treasurer Andrew Savage, and historian/parliamentarian Mary Porter.
  "This is a great way to learn to be a good role model and is a good experience," senior chapter president Rickie Branson said.
  New members included seniors Austin McCall, Melissa Scrivener, and juniors Chance Adams, Blake Brodersen, Cade Chiles, Erica Flores, Maddie Freeman, Madison Grobe, Noah Long, Makayla Mais, Jonathan Petesch, Bailey Sharp, Alexis Smith, Garrett Smith, Samantha Thompson, Nate Townley, and Ashlyn Yoder.
  Many of the new members said they were honored to add NHS to their resumes and to participate in many of the organization's service projects, such as the trash pick-up on Hwy. 7, serving at the school Veteran's Day assembly and Operation Christmas Child, an organization devoted to sending basic necessities to kids in third-world countries.
  New member, junior Cade Chiles, joined because it would look good on resumes, and because it helps to build leadership skills. He hopes to help the people in it and the community. He thinks there are no downfalls to joining.
    Newly inducted member junior Noah Long joined because NHS advisor Charlene Million highly encouraged him to join to learn to have more leadership on a higher level and to have more references.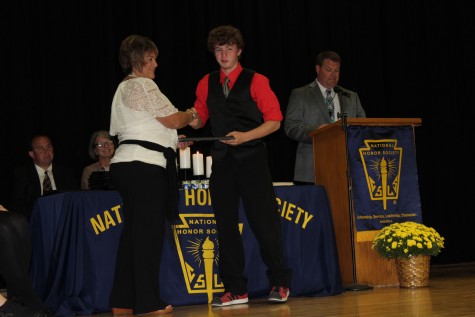 NHS advisor Charlene Million awards Junior Noah Long his certificate for joining during the Induction Ceremony. Photo by Lee Newell
  To receive an application for NHS, a student must first be a junior or senior. Then they must meet the cumulative GPA of 3.30 scholarship requirement.  Students who met this requirement were considered as NHS candidates and thus were given an application to apply for NHS.  Each student who submitted an application by the predetermined deadlines are entered onto the survey with a scoring graph on the NHS required attributes of Service, Leadership, and Character.  This survey was then sent to the entire WHS staff, and they were asked to rate each of the applicants based on the NHS required attributes of Service, Leadership, and Character. A five-member  faculty council reviews the applications and the results of the faculty survey. Each applicant was discussed in alphabetical order on whether they have displayed the required four attributes to be an NHS member.  If the student, received a majority of approval votes, then he/she became an NHS inductee.