Artist corner
Junior explores passion for drawing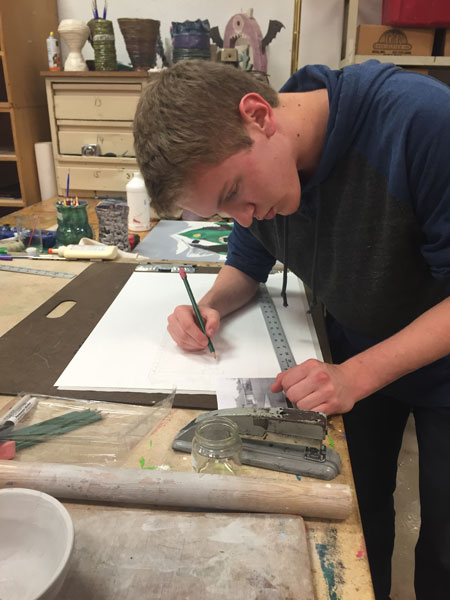 Art may not be everyone's forte, but for some it's everything. Junior Garrett Smith has been involved with and interested in art for as long as he can remember.
  "From what I've been told and what I remember, I have been interested in art as long as I've been able to hold a pencil," Smith said.
   He has done an assortment of different projects over the years and has won many second, third, and honorable mention awards for his work. His favorite work that he has done is a drawing of "Darth Vader" from the Star Wars movie series. He has also taken every art class that was available to him, excluding Art 2. His favorite class so far was pottery. He is currently in drawing and painting.
  Although Smith has done many types of art, he prefers pencil drawings over anything else, and despises painting.
  "I hate painting because I am not good at it at all. I can't even paint inside lines, much less actually make something." Smith said.
  He currently isn't working on any big projects, but he is drawing his house for an art class and he describes it as very tedious work, but he is hopeful for a good outcome.
   He doesn't have any plans for future projects because he prefers just doing projects when he gets inspiration, except when he has to do something for an art class.
  "I get inspired by seeing other people's work or watching others draw." Smith said.  
  He plans to continue taking more art classes and making himself better before he graduates next year.
  In the future, he wants to do something in engineering or design, so he plans to always be involved with art.