Four seniors take sports to college level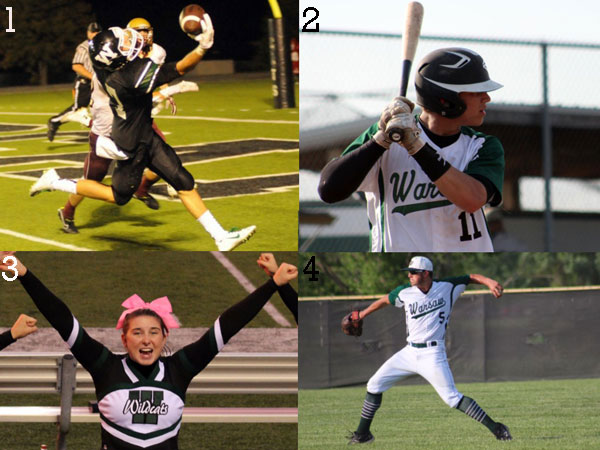 Four seniors will take the passion and skill for their favorite sport to the college level.
Seniors Joey Cooner and Jeremy Eierman play to attend a college for baseball.
Eierman is going to Missouri State, where he received a 65 percent scholarship to play as a shortstop. He choose this university because they are a good baseball school and it's close to home.
"I think playing baseball in college is going to be different than playing in high school because I will be playing in front of a bunch of fans," said Eierman.
Cooner is going to attend Crowder College, with a full ride scholarship to play as a pitcher. He chose Crowder because of their baseball program.
"In my opinion, playing a sport in college is going to be more intense and competitive than playing in high school," said Cooner.
Senior Bailey Jelinek received a scholarship in order to attend UCM for football in the position of a wide receiver and punter. He thinks that playing in college will be different than playing in high school because everybody in the field will be good.
"I choose this university over others because it is in between my parents, my brother goes there, and I know a lot of people who attend that university so I think that it will be good for me," said Jelinek.
Senior Tristen Weiser is going to attend Truman for cheerleading. Weiser is going to bring her school spirit to cheer for the Bulldogs. She choose this university because it is away from home, so she will be able to branch out and there's swimming and cheering, which are two of her passions. She said she has enjoyed cheering throughout high school and would love to cheer professionally some day, particularly for the Kansas City Chiefs.
Weiser plans to major in business communications and minor in photography.
"After college, I see myself working for a company that makes ads and then have a photography business on the side," said Weiser.