Seniors get ready for military future
Seniors are preparing to take on military life after high school. With that being said, that will come with certain challenges. This year approximately 4 seniors plan to join the military, Bryan Coffee, Kaylee Lawson, Tristen Crabtree, and Samuel Waters will be branching out on their new adventures in life. Counselor Tyler Richardson has been helping these students take action and plan their futures deciding which branch of the military will be best for them.
"Students have taken the ASVAB test and in some cases they have taken it twice here at school. Paperwork must be filled out for them to join early, or to verify graduation and dates. We also schedule recruiters to come to school to visit with students about the military, and provide space for them to meet with students and parents about joining the military," Richardson said.
With only a short amount of time left in this school year, these seniors have been taking precautions to begin their new chapter.
¨I feel like I'm as prepared as I'm going to get. So right now I'm just going with the flow and trying to enjoy life as it is right now,¨ Waters said.
Coffee, who will be joining the Army National Guard, is nervous, but excited for what the future holds.
"I am looking forward to learning how to become a diesel mechanic and getting to see the United States," Coffee said.
When asked why he wanted to join he responded with,
"I decided to go into the military because I could get into the job I wanted after," Coffee said.
Joining the military can have many advantages for students. By joining it pays for all your college. It also gives you healthcare, housing, cash allowance, and many more benefits when joined.
"It provides a good way to pay for college. Also a wonderful source of really good insurance and retirement and structure. Sometimes students graduate immature and in some cases have no idea what they want to do with life. The military provides self discipline, soft skill training and a way forward," Richardson said.
Lawson will be joining the Army National Guard as well as Coffee and later plans to transfer to Active Duty Army as an officer after her college graduation.
¨Truth be told everyone gets nervous about the unknown, but to be honest I am more excited than anything, I'm looking most forward to traveling as well as friends I will be able to meet while in the military!¨ Lawson said.
Leave a Comment
About the Contributors
Randi Buchholz, Staff Writer
Junior Randi Buchholz is in her second year of the newspaper production, serving as a staff writer.  Buchholz enjoys writing, spending time with friends,...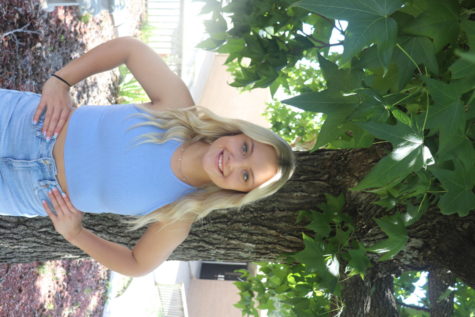 Taylor Howe, Contributor
Senior Taylor Howe is a new yearbook journalist who is very excited for what the year has to bring! Howe is involved in volleyball, basketball and softball....